We are 7 minutes from the CBMF  Grounds
Featuring 1,2 and 3 bedroom cottages for quiet persons.
 2023 CBMF Policies
No pets.  Please note will not be taking booking from any smokers or vapers for CBMF bookings.
We do not permit the use of cannabis on this property anytime during the rental season.
If anyone in your group uses any of these, please pass on by, no point in inquiring.
____________________________________
2023 Cavendish Beach Music Festival Policies
The Policies outlined on this page are strictly for staying during the Music Festival Weekend.
See our regular policies for stays outside of CBMF Weekend
No Shuttle Service Available but there was no problem to get taxis in 2022
We are a 7 min drive to the festival grounds, we are not within walking distance (6kms)
2023 Cavendish Beach Music Festival in July      (6,7,8)




We are sold out and will not be adding anymore to the "Waiting List"


___________________________________________________
- Office and Grounds are under camera surveillance.
- NO Parties
- Quiet time is 11pm-8am (No Gatherings on the Decks after 11pm)
- No Large Groups, and we will only rent 1 cottage to the same group
- To book or inquire you need to contact us directly as we will not be displaying our Vacancy for Online Booking.
____________________________________________________________
RULES for staying during CBMF period
- These Rules apply to Cavendish Beach Music Festival Weekend ONLY
- No Smokers, Vapers or Cannabis users allowed
- Quiet Time  is  11pm - 8am and is    STRICTLY   ENFORCED
- Absolutely No hanging out on the decks after the festival after midnight. 
 - All persons staying on our property will be required to wear bracelets
- Maximum of 2 Vehicle per cottage and vehicles will have to display the parking pass to be on our property
- No Off Site Visitors Allowed (Day or Night)
- NO PETS allowed in any cottages
- If you arrive with more persons than that approved in your booking,  or if you try to sneak in extra persons you will be evicted from the property with no refunds given.
___________________________________________________
 BOOKING POLICY:
- Reservations & Deposits are NON-Transferable to other persons so no selling your reservation
- All bookings will require the Names and Ages of each person staying in the cottage
- Upon arrival, ALL approved occupants must check in at the office and provide photo ID
- Deposit must be paid by Visa or Master Card.

Credit card used must belong to someone staying in the cottage.

- $500 Non-Refundable Deposit due at time of booking;  Balance is due  on May 8, 2023
- The person who's name is on the reservation is responsible for the cottage and/or damage
- Access to the Cottage will NOT be given until the person who  booked has arrived and registered.  Everyone arriving later is required to check in at the Office immediately upon arriving.
- Only the # of people you booked for will be allowed to stay in the cottage
- Written permission by email must be obtained from our Office to increase the # of occupants to stay
- You cannot sell your reservation to another person should you have to cancel. Reservations/deposits are non-transferable.
__________________________________________________
2023Cancellation Policy:
- For Cancellations made before May 8, 2023  you will lose the $500 non-refundable deposit you paid.
- For Cancellations after May 8th 2023,  you will receive a full refund less the $500 non-refundable deposit paid as long as the cottage gets rented back for the nights you have booked..
- If you leave before your reservation has ended, you will NOT receive any refund
- If you arrive before your reservation starts (and we have availability) you will be required to pay the regular cottage rate for the season (discounted from CBMF rates) along with the cost of the CBMF reservation you had booked
2023 Rates   -  For CBMF Festival Weekend
We offer Flat Rates only for the CBMF
1 Bedroom Cottage:              SOLD OUT for 2023
Flat Rate:  $1300 + tax  and covers up to 2 persons
Extra persons are $150 + tax each
****************************************************************
 2 Bedroom Cottages:             
SOLD OUT  for 2023
Flat Rate:  $1600+ tax  and covers up to 4 persons
Extra persons are $150 + tax
****************************************************************
2 Bedroom 2 bathroom Cottages:         
SOLD OUT  for 2023
Flat Rate:  $1850 + tax and covers up to 4 persons)
Extra persons are $150 + tax per extra person
**************************************************************
3 Bedroom Cottages       
Sold out for 2023!
Flat Rate:  $2400 + tax  and covers up to 6 persons
Extra persons are $150 + tax
____________________________________________________
Inquire here

LOCATION
Festival is behind "Avonlea Shops".  We are Not within walking distance, 6kms away - about 6-7 min drive.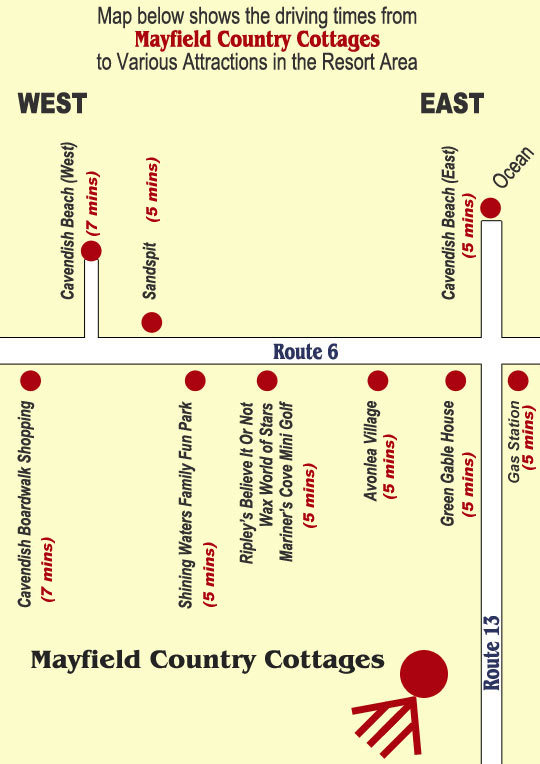 Our Private Shuttle was cancelled for 2022 and will not be operating in 2023.
Cottages near CBMF
 Cottages Rentals near Cavendish Beach Music Festival
CBMF
CBMF 2023